Karan Bhoja Sanjot an Outstanding Craftsman from Bhuj, Kutch, Gujarat was recently awarded the "Certificate Of Excellence" for his contribution to the development of Leather Craft by Smriti Zubin Irani, Ministry of Textiles, Government of India.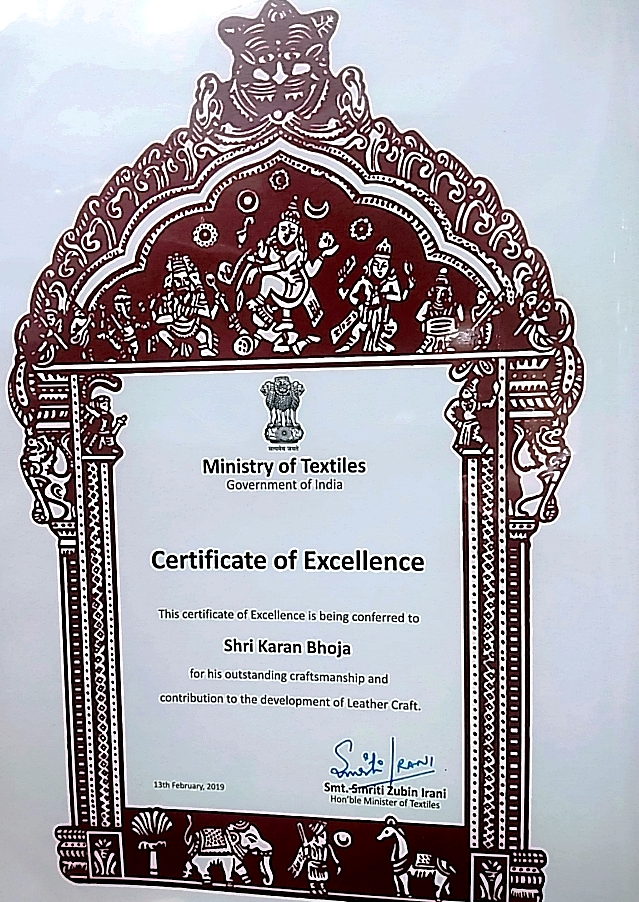 Karan Bhoja Sanjot has been actively participating in various private and government-sponsored exhibitions like Craftroots, Dastkar, Garvi Gurjari and so on. He had recently participated in Green Fashion India show held at the School of Fashion Technology Pune in collaboration with the National Institute of Design - Ahmedabad, where he was truly acclaimed for his products which were used by the fashion models.
Leather Craft has been part of his family for decades and is the primary source of income. Continuous training and practice along with the use of the internet have made him stand out as one of the young and outstanding Craftsman.
He has a team of 12 artisans working under him delivering exclusive masterpieces daily. He is regularly invited to the training programs by Colleges, NGO'S and Government institutes to impart and share his skills. One of the biggest USP of his product is the blend of leather with various other art forms like Ajrakh, Rogan, and Ekat. Bags, purses, wallets, and footwear are the product types that he regularly manufactures. For sales, he currently depends on Social Media and direct contacts. Being collaborated with Megastores has helped him showcase his art globally.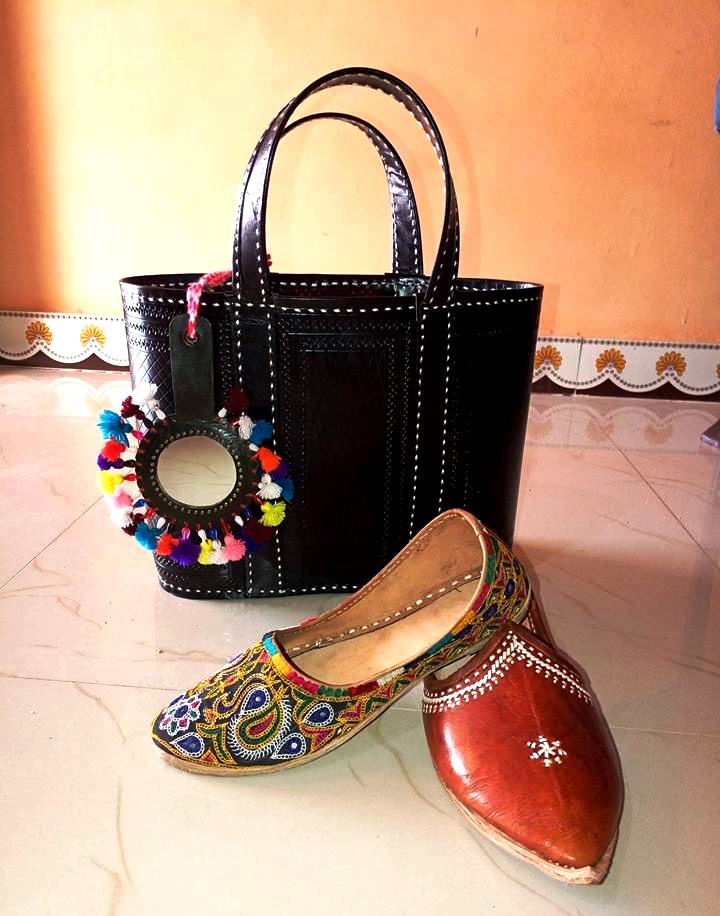 Karan Bhoja Sanjot said "He wants Kutch, Gujarat to be known for the leather craft as it has not got the required fame as the leather craft of Rajasthan. Also, he would like to make a group of artisans come together so as to boost the exports of
leather crafts
." He added, "Success for him comes with the social wellbeing of his fellow workers". Karon Bhoja Sanjot is the true inspiration for the youth of today.